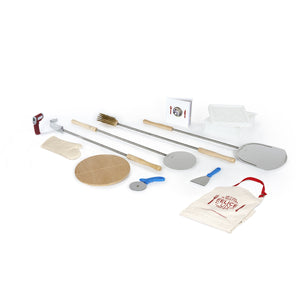 We have selected for you the best tools to make pizza at home.
All the tools in the kit are Made in Italy and food used certified.
The tools in wood are entirely handmade and the remaining ones are selected according to high quality standards.
The Kit is available in 2 versions which vary with the peel length: kit pizzaiolo 36" and kit pizzaiolo 48".
Kit includes: Peel, round peel, ember rake, oven brush, wooden paddle, laser thermometer, wheel cutter, apron, chopping board, dough ball box, heat-resistant oven mitt and cookbook.